[Anzeige*Rezensionsexemplar]. "A night of promises and blood" von Anne Pätzold. Erschienen im Lyx Verlag.
Darum geht es:
Winnie ist mit ihrer jüngeren Schwester Sasha nach New York gezogen. Sie möchte ihren Vater finden. Das nach über 14 Jahren. Das ist alles andere als leicht. Sich diesen Gefühlen zu stellen und dabei ihre Schwester im Auge zu behalten ist eine Herausforderung. Denn diese hat sich mit einer Frau, namens Jo, angefreundet. Irgendetwas mysteriöses hat Jo an sich, dass Winnie bewegt. Sie ahnt noch nicht, dass Jo ein Geheimnis hat…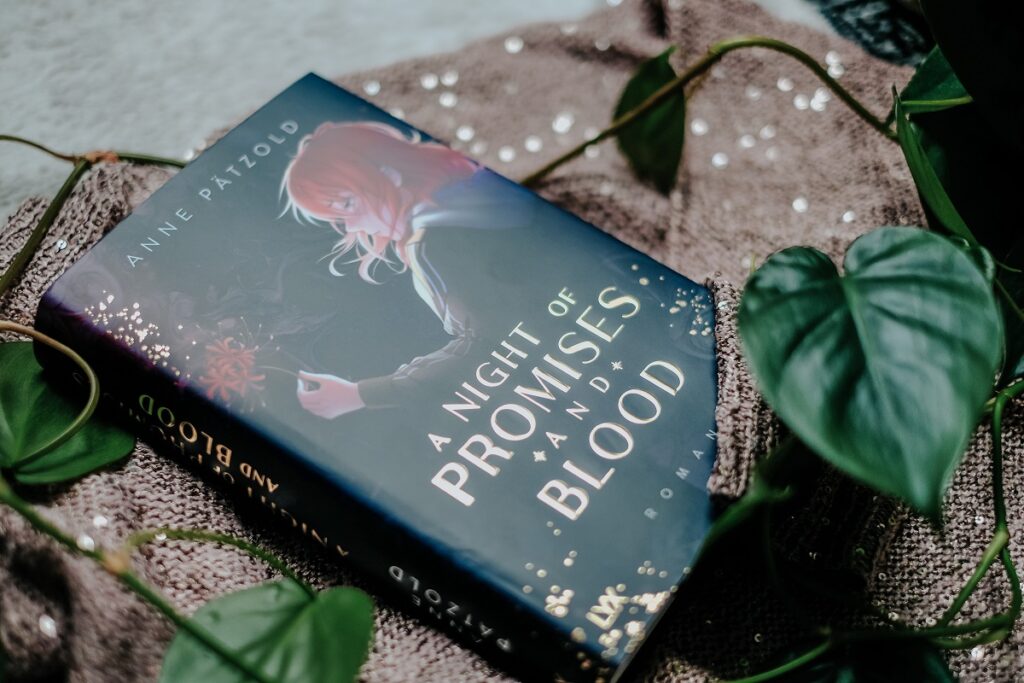 A night of promises and blood – Genau, was ich gebraucht habe
Meine Meinung:
Anne Pätzold konnte mich schon mit "Right here" fesseln. Zu dem folge ich ihr auf Instagram und liebe es, dass wir über Manga quatschen können.
Diese Story hat das, was ich liebe: Vampire und eine queere Liebesgeschichte. Allein damit macht man mich schon glücklich. Hinzukommt der Schreibstil der Autorin, dieser hat etwas ruhiges und emotionales an sich, dass mich gleich vom ersten Satz an fesselt. Es ist spannend, aber vorwiegend mehr im mystischen Sinne. Die Worte sind so emotional und tiefsinnig. Eine Fantasy Geschichte, wie ich sie liebe: Tief, mit Gefühl und unergründlich. Und das noch mit Vampiren und einer queeren Liebesgeschichte. Könnt ihr mein Glück fassen?
Die Liebe der Protagonisten zu Kunst und dieses zusammen mit dem Wunsch sich zu entwickeln, war unglaublich packend. Danke Anne, das habe ich gebraucht. Was ich unbedingt erwähnen muss: Dieses wunderschöne Cover und unter dem Umschlag die Prägung – Es ist der Wahnsinn.
Schau unbedingt bei der Leseprobe von "A night of promises and blood" vorbei. Für weitere emotional tiefgründige Lese-Momente verlinke ich dir "I kissed a boy- Dacre".