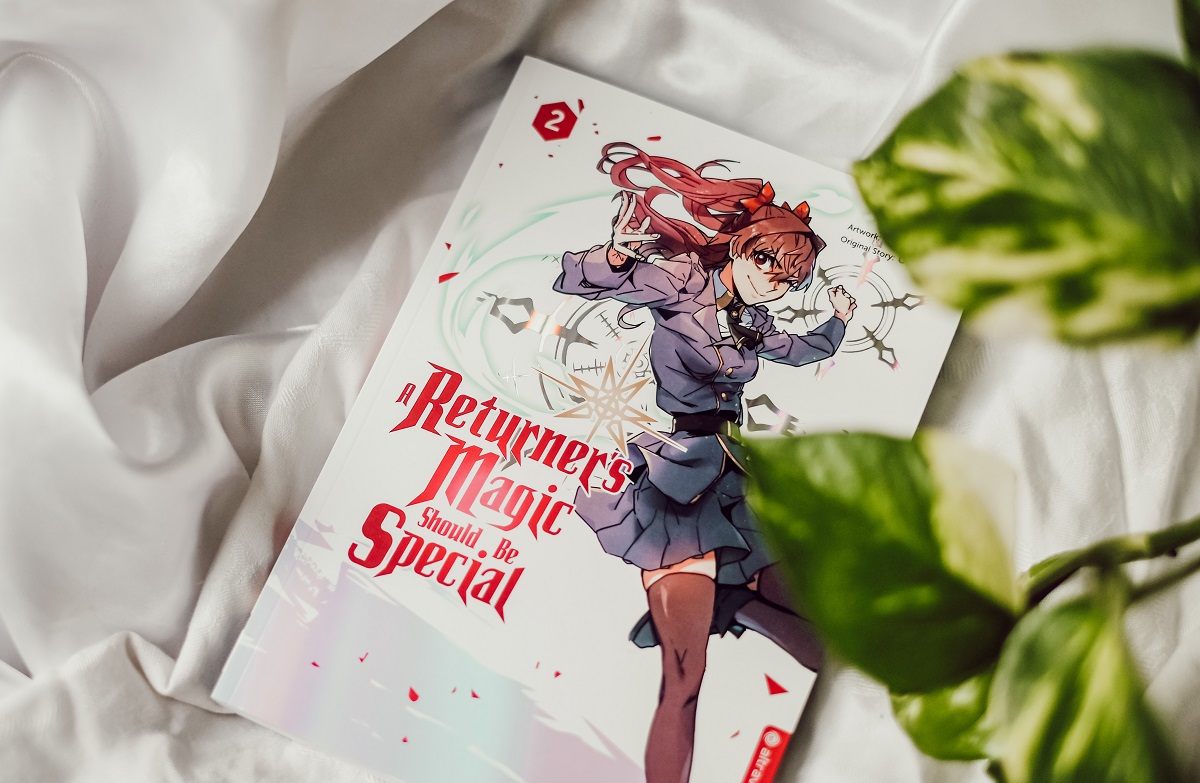 [Anzeige * Rezensionsexemplar]. "A Returner's Magic Should Be Special" Band 2 von Usonan & Wookjakga. Webtoon. Erschienen bei Altraverse
Darum geht es:
Desir Arman befindet sich wieder an Magie-Akademie. Zurück in der Vergangenheit versucht er den Untergang der Welt zu verhindern. Dafür gründet er an der Hebrion Akademie eine Gruppe. Diese besteht nur aus Beta-Schülern. Dem einfachen Bürgertum. Sie versuchen im Aufstiegsturnier unter die besten Neun zu kommen. Dadurch könnten sie Teil der Alpha-Klasse werden. Dieser stehen viel mehr Möglichkeiten zur Verfügung um ihre Magie auszubauen.
A Returner's Magic Should Be Special 2 – Mehr als ein Isekai
Meine Meinung:
Ein langweiliger Isekai? Schon wieder erwacht jemand in der Vergangenheit? Der letzte Punkt: Ja, alles andere Nein.
Dieser Webtoon bietet so viel mehr als nur ein einfacher Isekai zu sein. Die Kämpfe sind genial und es macht viel Vergnügen diese anzusehen. Die Bewegungen sind cool dargestellt. Hier hatte ich das Gefühl richtig mit zu kämpfen. Aber nicht nur das: Wir erfahren mehr über Desirs Kameraden. Vor allem über Pram. Wir blicken in seine Vergangenheit und sehen, was ihn an die Akademie gebracht hat. Seine Motivation konnte ich so gut nachvollziehen.
Haben wir nicht alle eine Vergangenheit? Haben wir nicht alle etwas, was uns schon mal zu zweifeln gebracht hat, warum wir tun, was wir tun? Und, ob das richtig ist? Ich fand es hier so schön zu sehen, wie Desir auf Pram eingeht. Das hat das Band ihrer Freundschaft sehr gestärkt. Zu dem finde ich, dass Pram sehr klein und schmächtig ist. Viele unterschätzen ihn. Ich mag die Aussage hier besonders: "Du kannst alles schaffen, auch wenn du klein bist."
Die Beta-Klasse ist verpönt, sie gelten als ungebildet. Unser Held zeigt seinen Freunden, dass man an sich glauben muss und das man dafür oft hart arbeiten muss. Es fällt nun mal nicht einfach vom Himmel herunter. Auch Romantica, der dritte Part in Desirs Team, wird zugänglicher. Wir lernen sie mehr kennen und auch ihre Beweggründe. Ich finde sie mittlerweile richtig cool und lustig. Wir haben hier eine tiefgreifende Thematik mitschwingen, aber dennoch die eine oder andere Szene zum grinsen. Romantica sorgt auf jeden Fall dafür.
Kennst du die Reihe schon? Wenn nicht, schau unbedingt bei Band 1 vorbei und auch bei der Leseprobe von Altraverse.