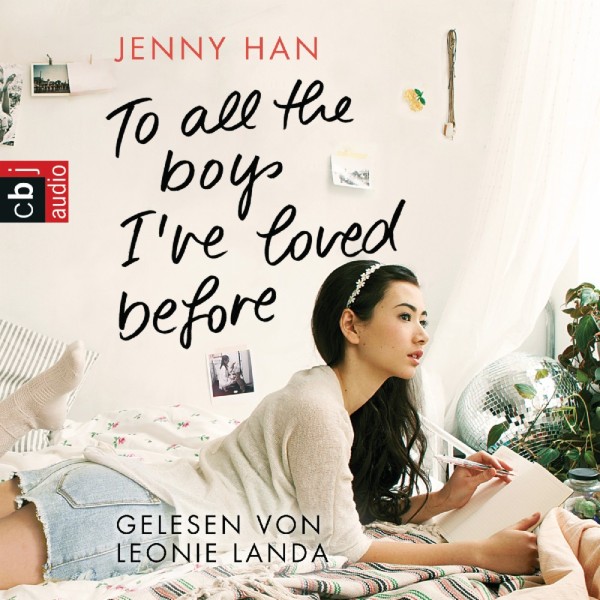 Lara Jeans Liebesleben war bisher eher unspektakulär – um nicht zu sagen: Sie hatte keines. Unsterblich verliebt war sie zwar schon oft, z. B. in den Freund ihrer großen Schwester. Doch sie traut sich nicht, sich jemandem anzuvertrauen. Ihre Gefühle fasst sie in Liebesbriefe, die sie in ihrer geliebten Hutschachtel versteckt. Niemand kennt ihr Geheimnis, bis zu dem Tag, als auf mysteriöse Weise alle fünf Briefe zu ihren Empfängern gelangen und Lara Jeans bisher rein imaginäres Liebesleben außer Kontrolle gerät.

Emotional und humorvoll gelesen von Leonie Landa.
Ich liebe lockere, leichte Bücher, die einfach nur Spaß machen. Und dieses Hörbuch macht definitiv Spaß!
To all the boys I've loved before überzeugt auf einfache Weise
Lara Jean ist noch jung. Einen richtigen Freund hatte sie bisher nie. Dafür ist sie viel zu lieb, nett, vielleicht auch naiv. Dieses Hörbuch läuft nun seit ein paar Wochen in meinem Auto und ich freue mich jedes Mal, wenn ich ein paar Minuten länger Auto fahren muss und mit Lara Jean auf ihre Reise gehen kann. Die fünf Liebesbriefe, die sie geschrieben hat, sorgen für Wirbel und es endet damit, dass Lara Jean irgendwie dann doch einen Freund hat. Nicht wirklich, aber irgendwie. Und dann geht natürlich das Gefühlschaos los.
Die Hauptcharaktere, neben Lara Jean, sind ihre beiden Schwestern Margo und Kitty, Margos Freund Josh und Peter. Das Highschool Leben wird mit weiteren Charakteren gefüllt, die dieses Buch noch besser machen. Leonie Landa ist definitiv die perfekte Erzählerin für dieses Buch. Ihre weiche, sanfte Stimme bringt Lara Jeans Unsicherheiten immer wieder gut rüber. Dazu auch die "Härte" der Jungs, wenn man es denn Härte nennen kann. Aber man merkt definitiv im Ton der Stimme, wer redet und wie sich diese Person fühlt. Das finde ich echt lobenswert, denn meistens kommt das gar nicht so gut rüber in einem Hörbuch. Hier allerdings auf die perfekte Art und Weise.
Ja, wenn ihr etwas leichtes für Zwischendurch wollt, empfehle ich euch das Hörbuch sehr gerne. Wenn ihr lieber selber lesen wollt, kauft euch das Buch. Es wird euch gefallen!