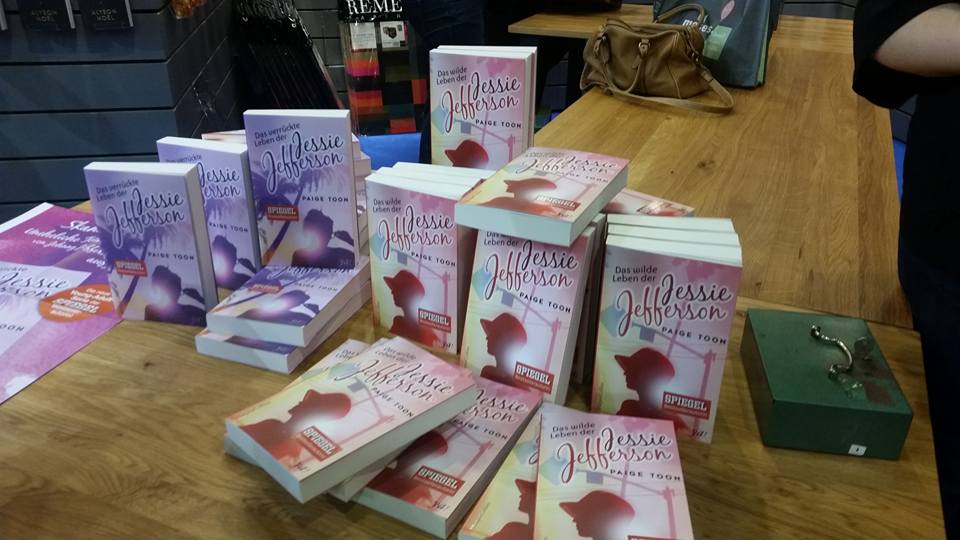 Hallo ihr Lieben,
ich habe euch noch gar nichts von meinem Samstag auf der Buchmesse erzählt. Das war eigentlich mein Lieblingstag und der Tag, an dem sich alles um Harper Collins und meine Lieblingsautorin Paige Toon drehte. Harper Collins hat sie netterweise eingeladen, ein Bloggerbrunch mit ihr organisiert und ich durfte ganze 45 Minuten mit ihr verbringen und ein Interview führen. Da Paige und ich schon öfters via Social Media Kontakt hatte, war es so, als würden zwei Freundinnen zusammen Kaffee trinken. Aber ich habe hier nun die sechs wichtigsten Fragen für euch! Heute sind die ersten drei dran. Ansonsten habt ihr viel zu viel zu lesen. Morgen dann die letzten drei. Ich hoffe, ihr freut euch! Ich freue mich jedenfalls total!
Auf Deutsch und Englisch natürlich! Lecker Essen hab es auch. Danke Jenny! Essen ist immer gut.
Paige Toon über Jessie Jefferson
Jessie Jefferson is incredibly popular. You have written five full length books about them, plus the short story. That makes five whole years spend with this particular fictional family. Are they special to you?
In the UK Johnny be good is my least selling book. I think that might surprise some people. It's the one I hear about the most, the fans are so passionate about it. But I am not sure, other readers might not like books about a rockstar or they didn't like the name Johnny in the title. Books with male names in the titel don't sell. So for me to write a sequel to my least selling book,… My publisher was really nice and she said "You have to write the book that's in your heart" so I had to write the sequel. I had readers write to me "You can't leave it on this big cliffhanger." For three years I made my readers wait. But yes, they are special. There was so much to the story and for me it is just such an interesting story and there's so much I can write about it.
Jessie Jefferson ist extrem beliebt. Du hast insgesamt fünf Bücher rund um Familie Jefferson geschrieben plus eine eShort. Das sind dann insgesamt fünf Jahre, die du mit ihnen vebracht hast. Sind sie ein besonderer Teil für dich?
In England ist Johnny be good das Buch, welches sich am schlechtesten verkauft. Ich glaube, das überrascht viele Menschen. Es ist allerdings auch das Buch, von dem ich am meisten höre. Die Fans lieben es. Ich weiß nicht, warum es sich so schlecht verkauft. Vielleicht wollen Menschen nicht über Rockstars lesen oder mögen den Namen Johnny im Titel nicht. Solche Bücher verkaufen sich allgemein schlechter. Also war es schon komisch für mich, ein Sequel zu dem Buch zu schreiben, was sich so schlecht verkauft. Mein Publisher meinte, ich soll das Buch schreiben, welches in meinem Herzen ist und das war Baby be mine. Fans haben gesagt, ich kann das Buch nicht auf diesem Cliffhanger enden lassen. Diese mussten dann drei Jahre auf die Fortsetzung warten. Aber ja, sie sind definitiv speziell. Es gab da soviel, was man zu der Story schreiben kann und es ist wirklich eine interessante Geschichte.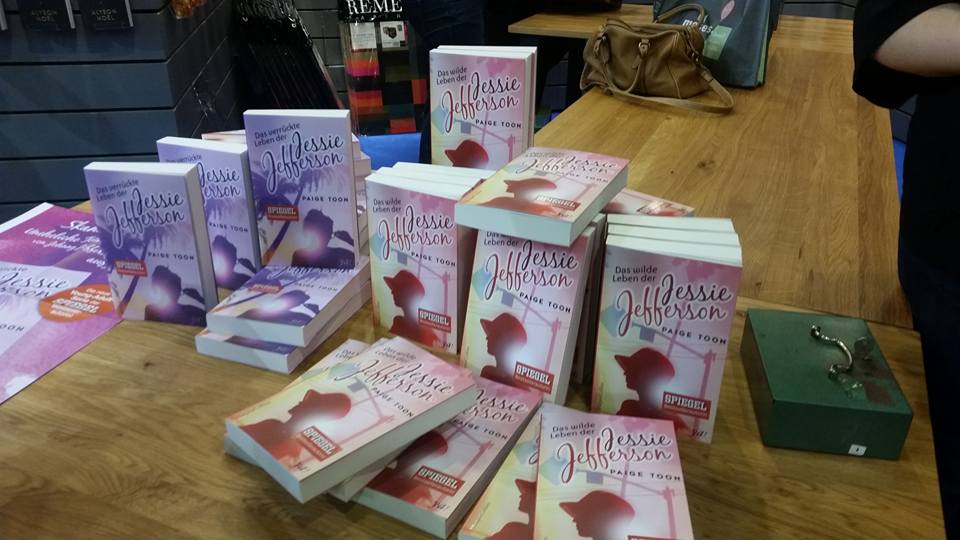 How was it writing Jessie as a 16 year old?
It was fine actually. She was 15 when the book started and it was no different for me to write her than my adult characters because as long as you know the character you are writing it's easy. It doesn't matter how old they are. You know what their story is and you write from there. I never wanted to dumb down my writing just because it is for a younger audience. That is very much my tone of voice. But yes, she is kind of a naughty girl with partying and such. The hardest part with writing for teenagers was, that I don't usually write something I wouldn't really do myself and I did that with Jessie (taking the spoiler out here for all the German readers who don't know what we are talking about here in book 3 – but you british people know which scene we mean 😛 ). My stories are always realistic even if they work as celebrity PA's. I had to make Jessie stop smoking, even though she probably would have carried on smoking, I had to make her stop to still be a role model.
Wie war es, Jessie zu schreiben, da sie erst 16 ist?
Das war eigentlich einfach. Im ersten Buch ist Jessie 15 und es hat sich nicht anders angefühlt aus ihrer Sicht zu schreiben, als aus jeder anderen. Solange du deinen Charakter kennst, ist schreiben einfach. Es kommt nicht darauf an, wie alt sie sind. Ich wollte meinen Schreibstil nie dümmer machen, als er ist, nur weil ich jetzt für Jugendliche schreibe. Es ist immer noch mein Schreibstil. Aber ja, sie ist durchaus ein "böses" Mädchen mit all den Parties und so. Das schwerste am schreiben für Jugendliche ist, dass man aufpassen muss, wie man etwas schreibt und das Jessie auch noch ein Rolemodel bleibt. (Ich erwähne die Spoiler hier mal nicht, weil die deutschen Bücher noch nicht alle raus sind). Meine Geschichten sind immer realistisch. Menschen können diese Jobs wirklich haben und mit Berühmtheiten zusammen arbeiten. Als Jessie anfing zu rauchen, war mir klar, dass sie auch wieder aufhören muss. Einfach, damit sie das Rolemodel bleibt, was sie sein soll. Wahrscheinlich hätte sie als normaler Teenager nicht wieder aufgehört, aber ich musste es im Buch geschehen lassen. Johnny hat es ja auch geschafft.
Reden wir über The one we fell in love with und das neue Buch
Your newest love story "The one we fell in love with" is written about triplets. How was it writing from three different prespectives?
That was challenging because I had to get into the heads of three different girls with very different personalities in the same book. Each with their own story and interests, hobbies and love interests. There were three different men to get to know. Things like Phoebe, she rock climbs and I knew nothing about rock climbing. You would never catch me up a mountain doing anything like that. So for me, getting inside her head and really understand her and write from her perspective I did a lot of research, watched movies and really tried to imagine what that would be like. Rose goes to work in a bakery and I liked writing her the most. I learned how to bake bread for her. I went to a bakery and took lots of notes and everything. It was challenging but hopefully I pulled it off (Yes you did Paige! You so did!)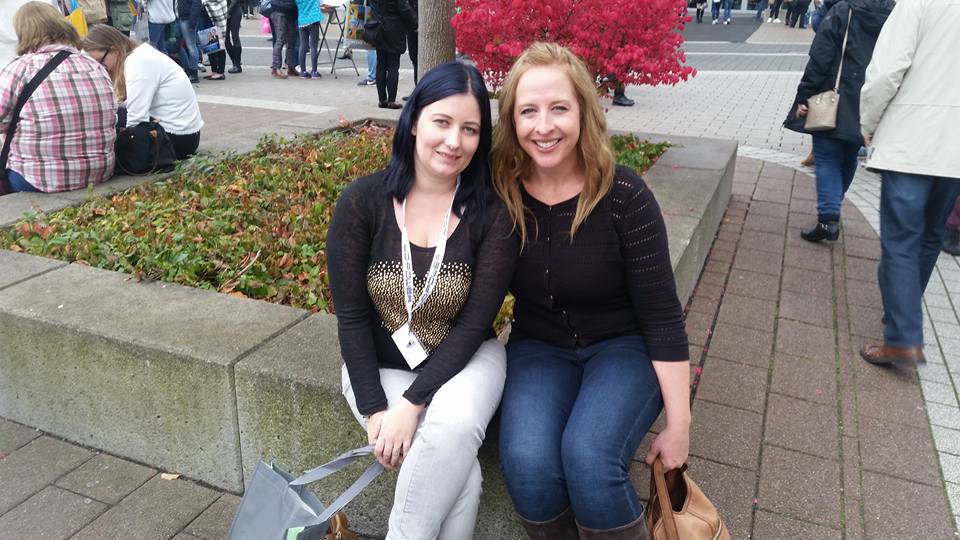 Dein neustes Buch "The one we fell in love with" handelt von Drillingen. Wie war es für dich aus drei verschiedenen Perspektiven zu schreiben?
Es war definitiv eine Herausforderung. Ich musste in drei verschiedene Köpfe springen und drei ganz unterschiedliche Menschen erschaffen, mit eigenen Vorlieben, Hobbies und auch Männern. Es gab also auch drei verschiedene Männer, die man kennen lernen konnte. Bei Phoebe war es schwer, da sie ja gerne klettert. Das ist etwas, was ich nie machen würde. Nie würde man mich an der Seite eines Berges finden. Also habe ich hier viel nachgucken und lernen müssen, um überhaupt zu verstehen, was Phoebe daran so toll findet. Bei Rose war es einfacher. Sie endet ja in einer Bäckerei und das war für mich am einfachsten zu schreiben. Ich bin dann in eine Bäckerei gefahren, habe gelernt, wie man Brot macht und mir viele Notizen mit nach Hause genommen. Es war schwer, aber ich hoffe, ich habe es gut umgesetzt. (Ja hast du Paige!)