Guten Morgen ihr Lieben,
weiter gehts mit Teil 2 des Interviews! Heute beschäftigen wir uns mit alten Charakteren, die immer wieder kommen und Paige neuem Buch, dass nächstes Jahr in England raus kommt. Aber ich muss nochmal sagen: Das Essen bei Harper war toll. Wir wurden wirklich gut und gesund ernährt da. Da geht man doch gerne auf ein Blogger-Autoren Treffen 😀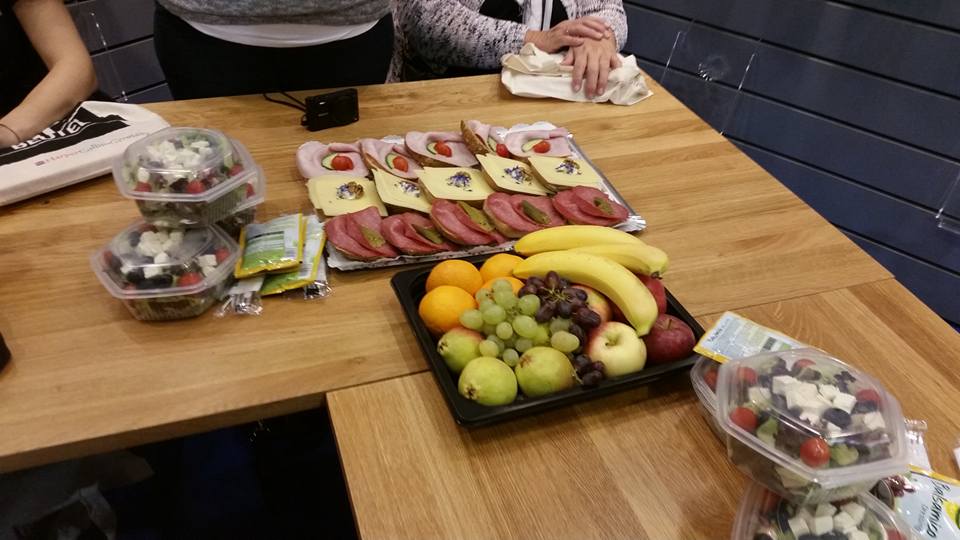 Paige Toon über ihr neustes Buch
Can you tell me anything about your new book?
It's called "The last piece of my heart" and its Bridgets story. She was the friend in "The longest holiday" and "Thirteen weddings". Basically she wants to turn her relationship blog into a novel. It's all about finding all the pieces to her heart and finding all the men she'd ever loved and asking for that little piece back she gave them. She wants to really fall in love now and wants to have her whole heart for it. Nobody wants her book idea because they want to keep it as a blog. One publisher says that she could write something else they have in mind. Another author had died the year before and never finished the second book to her bestseller. They now want Bridget to finish that story and be a ghostwriter for it. In doing that she gets to know the husband and the baby daughter of the author who has died. So she goes to live in Cornwall, to be able to work in that authors office. That becomes more important to her than the blog and it goes into a totally wrong direction than what she wanted to do.
Kannst du mir etwas über dein neues Buch erzählen?
Es heißt "The last piece of my heart" und es ist die Geschichte von Bridget. Bridget war die Freundin in "The longst holiday" und "Thriteen weddings". Im Grunde will sie in diesem Buch ihren Beziehungsblog in einen Roman umwandeln. Sie will jedes kleine bisschen ihres Herzens von all ihren Exfreunden rund um die Welt wieder einsammeln und darüber schreiben. Ihr Wunsch ist es, sich richtig zu verlieben, weil sie der Meinung ist, dass sie das vorher noch nie war und dafür braucht sie ein heiles Herz. Keiner will diesen Roman veröffentlichen. Sie mögen den Blog lieber. Aber ein Verlag sagt, dass sie trotzdem ein Projekt für sie hätten. Die Autorin eines Bestsellerromans ist gestorben, bevor sie ihre Reihe beenden konnte und Bridget soll das nun übernehmen. Um richtig arbeiten zu können, geht sie nach Cornwall und lernt dort den Mann und die kleine Babytochter dieser Autorin kennen und schreibt von ihrem Büro aus. Das wird für sie wichtiger, als ihr Blog und ihre eigene Idee.
Über "Hidden Paige" und alte Charaktere
Are you planning on going back to writing a novel about Daisy? I mean, you keep your fans up to date on all your characters with the "Hidden Paige" but I do believe there is more to Daisy's story.
Yes, I think the Hidden Paige is a good place for me to be able to continue the story and maybe one day I will be making them all into a book. I am not sure if I will ever write a full length story about Daiys again. It depends. I have so many other ideas but if an idea pops into my head about Daisy and I feel like I need to write that one now, I will for sure do that. I tend to go with my heart and right now there's other stories I want to tell.
Hast du vor, Daisys Geschichte weiter zu schreiben? Ich meine, du lässt deine Fans wissen, was mit deinen Charakteren passiert. In "The hidden Paige" schreibst du immer mal wieder darüber, aber ich glaube es gibt noch wesentlich mehr, was man über Daisy schreiben kann.
Ja, ich glaube die Hidden Paige ist ein guter Platz für mich, kleine Geschichten weiter zu schreiben und vielleicht mache ich daraus irgendwann mal ein Buch. Ich weiß noch nicht, ob ich jemals wieder einen kompletten Roman über Daisy schreiben werde. Das kommt drauf an. Ich habe soviele andere Ideen, aber vielleicht finde ich eine, die zu Daisy passt. Dann werde ich das natürlich tun. Aber im Moment schreibe ich das, was in meinem Herzen ist und da gibt es derzeit eben andere Geschichten zu erzählen.
Is there another character in any of your books, not neccissarily a main character, that you feel like deserves their own story? Kind of like Bridget.
Not anyone that I have in mind. Sometimes I come up with an idea and it matches a certain character very well. It happens organically. When I wrote "The longest holiday" so many people told me they wanted to read Bridgets story and it happened in "Thirteen weddings" as well. It was so much fun to bring her back in as the friend but at that point I didn't have an idea for her story yet. Even my agent said "I want to read Bridgets story". I wrote a short story featuring Bridget which was the beginning of this story. I don't know who I will write the next one about. I am not sure.
Gibt es einen anderen Charakter, den du unbedingt noch einmal besuchen willst, wie Bridget?
Im Moment habe ich keinen bestimmten im Kopf. Manchmal kriege ich eine Idee und die passt zu einem bestimmten Nebencarakter. Als ich "The longest Holiday" geschrieben habe, haben mir viele Menschen gesagt, dass sie Bridgets Story gerne lesen würden. Das ist auch nach "Thirteen Weddings" passiert. Es hat Spaß gemacht, sie als Freundin wieder mit dabei zu haben, aber da hatte ich noch keine Idee für ihre eigene Geschichte. Selbst mein Agent hat gesagt, dass er Bridgets story lesen will. Also habe ich eine Kurzgeschichte geschrieben, die nun zu diesem Roman geführt hat. Ich weiß noch nicht, um wen es sich im nächsten Buch handeln wird. Wir werden sehen.