Hallo ihr Lieben,
es ist mal wieder Zeit für eine kleine Gamingreview und diesmal hat es nichts mit Animal Crossing zu tun.
Diesmal geht es um das Remake des 2003 erschienen Harvest Moon Friends of Mineral Town.
Marvelous Entertainment, die mittlerweile unter dem neuen Namen Story of Seasons in dieser Reihe veröffentlichen, bringt uns ein wenig Nostalgie aus der alten Zeit.
Story of Seasons: Lohnt es sich?
Wie immer in der SoS Reihe übernehmen wir hier die Farm unseres Opas. Und diese Farm ist natürlich nicht ordentlich. Also heißt es: Holz hacken, Steine herstellen und Unkraut jähten. Und das mit wenig Energie. Sehr nervig am Anfang, aber dieses Gefühl kennt jeder, der in dieser Reihe jemals ein Spiel gespielt hat.
Ansonsten ist es ganz einfach: Baut eure Sachen an, verkauft diese, verdient Geld, lernt die Leute der Stadt kennen. Sucht euch jemanden, den ihr heiraten wollt und versucht die Millionen für die Stadtvilla zusammen zu bekommen. Das funktioniert auch super von Frühjahr bis Herbst. Vorallem, wenn man wiederkehrende Sachen anpflanzt wie Gurken, Aubergien, Paprika etc. Im Winter steht man dann vor einem Problem. Alles ist weg. Das ganze Feld, die ganze Arbeit. Alles verloren und im Frühjahr fängt man von vorne an. Außerdem kann man im Winter kaum Geld verdienen, muss sich aber immer noch um seine Tiere kümmern. Angeln und Mienen bringen in diesem Spiel leider nicht wirklich viel Geld und da die Energie auch mit Werkzeugen der Goldvariante sehr schnell weg ist, lohnt es sich fast gar nicht.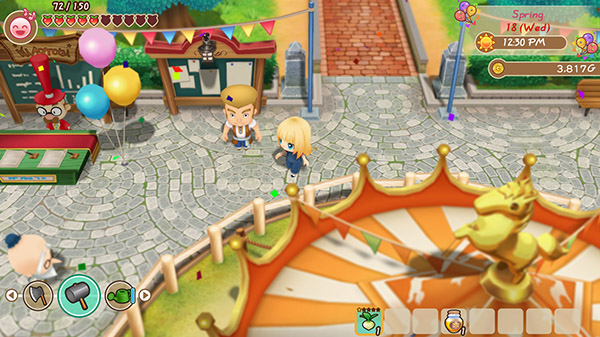 Was hat mich noch so gestört?
Obwohl ich diese Reihe sehr liebe, wurde ich mit diesem Spiel auf Dauer nicht warm. Ich habe ein komplettes Spieljahr durch und hatte danach einfach nur Langeweile. Es gibt hier keine wirkliche Storyline. Die Harvest Sprites sind direkt von Anfang an erhältlich und nach einer gewissen Zeit des Geschenke machens (die kleinen lieben übrigens Honig), helfen sie auf der Farm mit und man muss sich eigentlich um nichts mehr kümmern. Nur immer daran denken, dass die Arbeit nach sieben Tagen erledigt sein wird und man die Sprites erneut anfragen muss.
Und leider ist es ohne eine Storyline, ohne eine wirklich Herausforderung doch recht eintönig. Mir bleibt nur noch übrigen im Frühjahr alles wieder von vorne zu pflanzen, neue Tiere für die Farm zu kaufen und zu heiraten. Das werde ich auch noch tun, aber ich glaube kaum, dass ich dann großartig oft spielen werde. Außer ich fange nochmal von vorne an und heirate jemand anderen als dieses mal.
Ich hätte mich gefreut, wenn einige der Kritiken aus den vergangenen Jahren umgesetzt geworden wären. Oder zumindest die Sprites nicht von Anfang an da sind und die Storyline ein wenig mehr Herausforderung hat.  Für zwischendurch ist dieses Spiel aber auf jeden Fall zu empfehlen. Man kann super entspannen, sich ablenken lassen und die Zeit vergessen.